A Look Back at 2021
⁃ Notes
Each new year is an opportunity to look back over the last year and look forward to the next. I felt compelled to drop a few notes here, mostly for my own clarity. Most years December arrives and I struggle to recollect the last few months—let alone the year.
In the last year I've noticed a transition to a more sustainable cadence of work and life. Often, I still find myself running about the house to finish one more thing but gone are the 4:30 am starts and missed lunches. The horizon still seems a bit gloomy even after another year but I am incredibly grateful for the people who, during this crazy time in history, have come into my life.
Art
Progress, as it has for a number of years, has been disappointing. It seems though, I have set myself up for failure. I have wanted to paint. I have had an ideal that I've measured against which has created an obstacle more than a goal. Painting requires time, preparation, materials, and space. I have not had any of these things in any great quantity and so I find myself stuck, never able to execute. The basic and most essential thing I must do is draw, so I'll do that.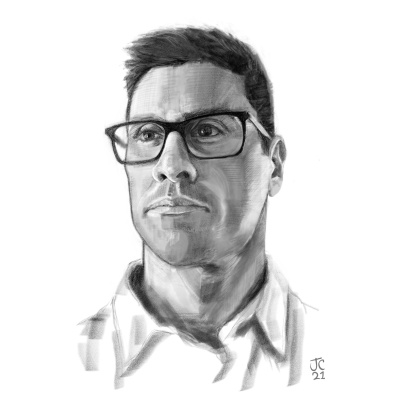 This site
Site speed has been a priority for this site in 2021. I was the fastest on the Eleventy Speedlify Leaderboard for No. 15 and 16. Admittedly, the optimizations were often designed for the algorithm ranking over site speed but this was why it was fun.
I didn't write much again this year. This is the 5th post of 2021.
Garmin Plugin
I created an Eleventy plugin to create a running log with Garmin Connect data. I use it on this site to capture and log running activities over time. The site build process triggers automatically with a Zapier action after every run, so there's nothing needed to update the running log—I love it.
What I Learned
I spent time learning about Web Components.
CSS has had a good year. There is (once again) a lot to learn.
Job Notes
I work on a team where I help design and build a web application. In 2020 I began to use a static site generator to build an interactive prototype but was limited to a single site. With so many features in flight in 2021 I needed a way to scale. I built a Bitbucket Pipeline to launch a Docker container, install and run Node commands, build and continuously deploy UI components and interactive prototypes by branch to a CDN, and notify the team in Slack. The automation allows me to quickly explore design solutions and deliver an interactive prototype specific to each feature to others on the product team.
I work remotely from home. It has been good. I retired the desk I bought from Staples in 2002 after I moved my home office for the 3rd or 4th time.
Running
Working from home has made it possible to be more consistent with running in 2021, especially since the fall. I added a weekly 10K in October and continue to feel great.
I averaged 6.4 miles per week for the year. 18.2 miles per week for the month of December, which is when all my best times for the year occurred:
No races this year, maybe in 2022.